Events 
2022
Gatineau / Aylmer: exhibition in the streets of Aylmer of poem within the project Ceci n'est pas une pub.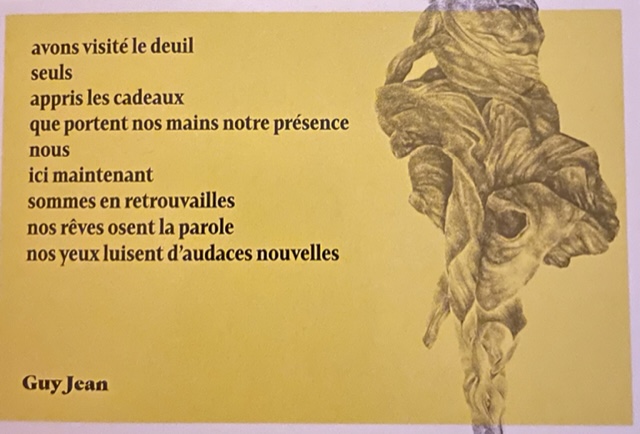 Gatineau: invited for panel discussion and reading at L'Heure du Thé, La Filature.
Gatineau: invited as member of a panel discussion and reading at "'Lichtungen: la poésie de l'Outaouais voyage", Salon du livre de l'Outaouais (SLO).
2021
Montreal: participated in the podcasts Poésie Go ! Allemagne at the Festival de la Poésie de Montréal (FPM) and a reading and discussion on creation and translation at the opening of the 22nd edition of the FPM.
Quebec City: invited to participate in the project Ceci n'est pas une pub within the festival "Québec en toutes lettres".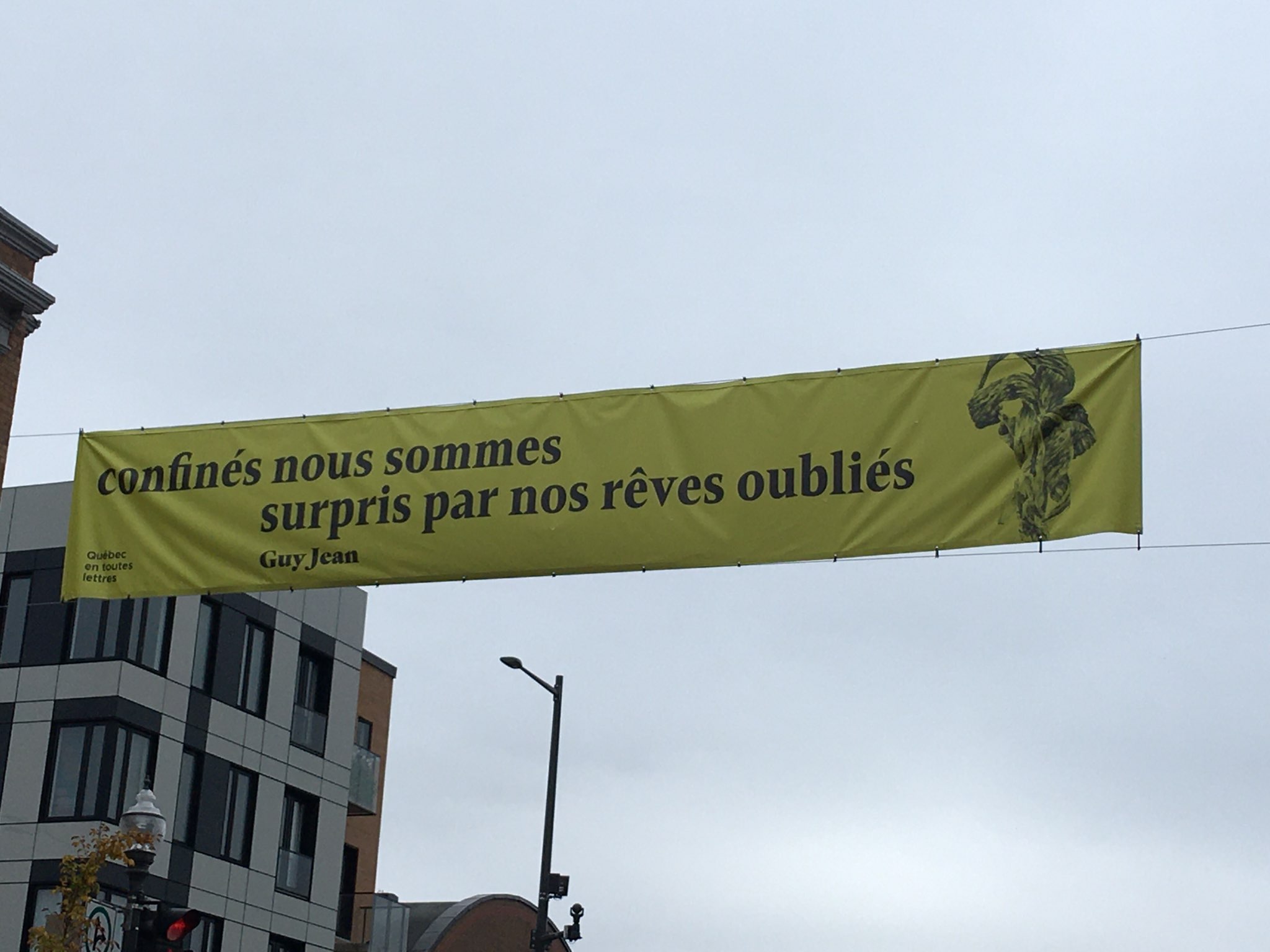 2020
 Gatineau: invited to create and perform a "call-and-response poem" during Radio-Canada's program Les Malins at the SLO.
North Hero, Vermont: "Water, Sacred Water", art work by artist Janet Fredericks and poet Guy Jean, Green TARA Space.
Gatineau: invited to participate in "La poésie prend la rue au coeur de la ville".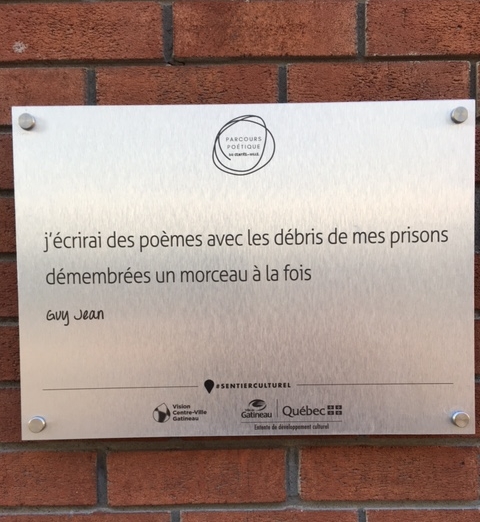 Gatineau: installation of an excerpt from Et l'eau répondit… within the project Ligne du temps at the Pavillon du Parc des cèdres.
2019
Gatineau: participated in the exhibition De mots et d'images: artist book created in collaboration with Marie-France Thibault. Bouquinart.
Gatineau: invited by PEN Québec to Livres comme l'air as writer paired with Wu Gan, detained in prison in China. SLO.
Gatineau: invited by the SLO to participate in Guy Jean, passeur, Territoires poétiques and Les publications sur l'art ont-elles un avenir au Québec?.
Podcast Tessellles-épisode 1, Transmettre, l'âme des poètes, Guy Jean and Mélanie Rivet.
Gatineau: reading at the Soirée de poésie de Gatineau Ville Lecture, Bouquinart.
Ottawa: participated in collective publication and reading: Poèmes de la Cité 2019 – nos lieux nos pas.
Gatineau: Concert Jazz-Poésie with Guy Jean, poet and the jazz trio, Garry Elliott on guitar, Normand Glaude on bass and harmonica and André Massicotte on trumpet, at Zibi.
2018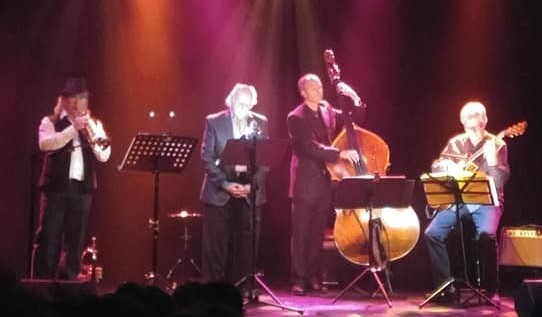 Ottawa: installed into VERSeOttawa's Hall of Fame.
Culturiades Outaouais: awarded the Prix Hommage de la Ville de Gatinau.
Rutland, Vermont: Let the river have its way: paintings and installations by Janet Fredericks and poet Guy Jean, the 77 Gallery.
Briey, France: Satellite 19 with Emilie Skrijelj & Denis Jaro Sinski, texts of Guy Jean, Henri Michaux and Bertold Brecht, Association La Première Rue, Cité Radieuse Le Corbusier.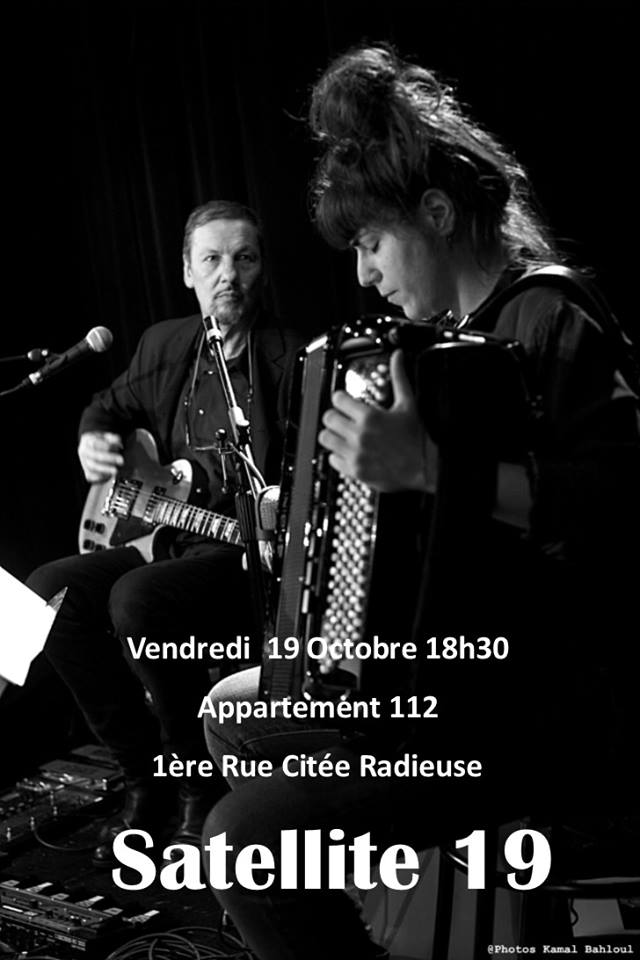 2017 :
Ottawa : reading at Ville Lauréate City with Canadian laureate poets.

Gatineau : Soirée Jazz-Poésie with Guy Jean within the Jazz Jazz Jazz festival.

Gatineau (Le Troquet) and Montréal (Maison des écrivains) : meeting with Edmond Baudoin (Paris) and Guy Jean on their creative collaboration for « L'obscurité a neigé ».

Wakefield La Pêche : host for panel at the Festival des écrivains.

Gatineau : participant in Didascalie, a multidisciplinary project of architectural projections on Laval street.
Gatineau Park : reading at Sons d'automne (2nd edition) at the Mackenzie King Estate.

Gatineau : host and reader at « Coureurs des mots », within the celebrations of Canada's 150th with Acadian, Franco-Ontarian and Outaouais poets.

Special guest at the reading Gatineau Ville Lecture.

Ottawa : invited at VerseFest,.
2016 :
Gatineau Park : reading at Sons d'automne at the Mackenzie King Estate.

Gatineau : invited by the City Council to represent Gatineau poets on the occasion of Poetry Month.
2015 :
Named Le Droit / Radio Canada's « personnalité de la semaine », June 15.

Gatineau: exhibition La toponymie au coeur de l'identité gatinoise, Coups de coeur toponymiques de personnalités gatinoises / Guy Jean: La Basoche et Ruisseau de la Brasserie.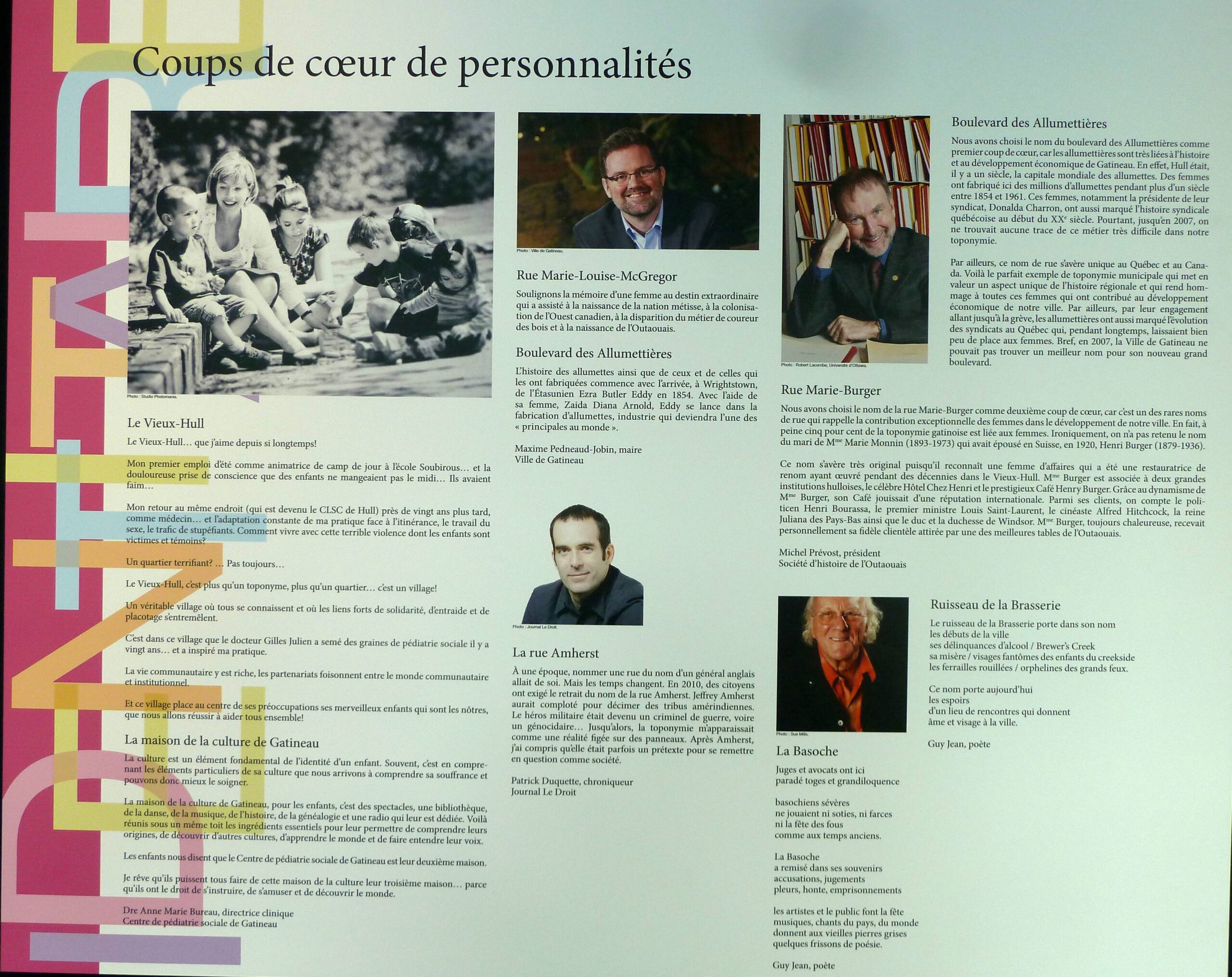 Gatineau: verses from Et l'eau répondit.. installed in permanent exhibition L'Auberge Symmes: fenêtres sur l'Outaouais.
Granted the Prix Hommage aux bâtisseurs at the Gala de reconnaissance des auteurs de l'Outaouais.
2014
Release of Mourning Ploughs the Winter, translation Katie Farris and Ilya Kaminsky, Marick Press. Wakefield Municipal Library, La Pêche, Explore the World of Guy Jean.
University of Ottawa: participated in Les Rendez-vous poétiques: a reading, Là d'où je viens DARLING! and a panel, Poésie et matières.
Gatineau: reading Poésies électroacoustiques (3) with Éric Charlebois and André Préfontaine.
Gatineau: poetry and cello, Guy Jean and André Préfontaine, Rencontres du patrimoine.
2013
Habay, Belgium: author's residency at the Château du Pont d'Oye, August 5th to 23rd
Gatineau: guest poet for reading at the mayor's and counsellors' swearing in ceremony.
2012
Paris : reading at the « Club des poètes » and release of Ma demeure brûle

 at the « Marché de la poésie»;

Montreal : invited for a reading at the literary and visual event Yoigoshi within the « Festival Montréal en lumière ».
Quebec City: reading at « Les vendredis de la poésie du TAP ».
2011
2010
Belgium: invited guest for literary activities within the Province of Luxemburg and participant at the Brussels International Book Fair.
Paris: release of En partance and On danse à Odessa at the « Marché de la poésie »
Trois-Rivières : invited at the International Poetry Festival.
2008
Gatineau: performance at the annual conference of the Association des médecins psychiatres du Québec.
(insérer image)
Shiraz, Iran, reading at the Hafez mausoleum on invitation by Fars Province.
Kashan, Iran: reading and meeting with Iranian poets at cultural centre.
Tehran, Iran: special guest at the Iranian Literature Foundation's 6th Poetry Narration.
2006
 Exhibition Et l'eau répondit… And water answered… by Janet Fredericks and Guy Jean, galerie Montcalm, Gatineau (May 4th to June 11th); T.W. Wood Gallery & Arts Center, Montpellier, Vermont (August 15th to September 24th); Exhibition Speaking with Water, Andover Hall, Harvard Divinity School, Cambridge Mass. (February 1st to 18th, 2007)